Clondegad GAA Football team thank our sponsors
Clondegad GAA football team endeavors to develop and promote Gaelic football, a game at the core of Irish identity and culture. We are dedicated to enriching the lives of our members, promoting individual development and striving to help enable all our members to achieve their full potential.
***

Walking track info click here
| | | |
| --- | --- | --- |
| | | |
| See twitter feed opposite for results | | O'Neill Club Gear available online, click above. |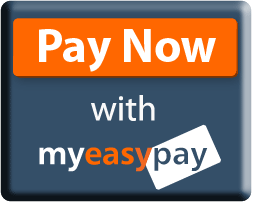 Our new online payment facility allows you to make club registration, membership and entering the annual Lotto/Race night much easier, simply click on the "Pay Now" button to the left and enter your details. Monthly staged payments can be made.
Club Membership & GDPR forms. Open by clicking on the icons below, then right click on document to print

All types of Membership application
Adult Membership application & GDPR form
Underage Membership application & GDPR form

Please all fill in Membership form 1 above AND form 2 for adult membership or from 3 for underage membership
BALLYNACALLY COMMUNITY PLANNING.
Following a successful application for assistance, Clare Local Development Company is working with volunteers from several groups active in the community to create a community development plan for Ballynacally. The plan will identify the needs of the community for the years ahead.We would like to find out what people think about Ballynacally– what you like about it, and what you think could be improved.

The deadline for completing your survey is 12th April. If you have any queries, contact Liam Kirwan at 085 1814031 (after 6pm) or Margaret Galvin at 085 8433118.
CLICK the survey icon to open the survey
Click here to download a hard copy which can be handed in to Kellys shop, the Church or Ballynacally National School or emailed to ballynacallysurvey@gmail.com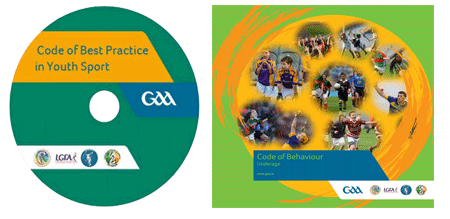 Click on the images to the right to see
1. "Our games our code" dealing with alleged breaches of the code of best practice in youth sport.

2. Code of best practice in youth sport when working with underage players, our Code of Best Practice in Youth Sport
Click on the images Below to Read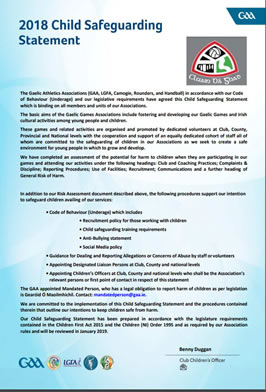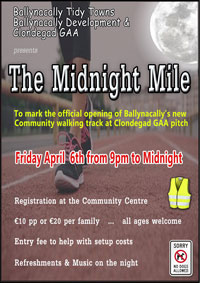 For pictures of the midnight mile click HERE
NEWS
Book Pitch
Concussion
Lotto
Pitch Works
Registration
1993 Pitch opening
Old photos
Video's
U15's
U14 Feile 2016

Clare's All-Ireland

Ballyea Senior champions 2016
County Final 2017
Clondegad GAA News:
Under 8/10 team Jersey presentation by Emerald Travel
Many thanks to Steve and all at Emerald Travel for sponsoring the u8 and u10 teams with new jerseys. This is greatly appreciated.
2018 AGM
Clondegad held their 2018 AGM recently in Ballynacally Community Centre. Officers elected on the night were, President Raymond O'Shea, Vice president TJ Scanlon. Joe Hehir took the role of Chairman with Brian McNelis vacating the position to act as assistant Chair. Ken Breen remains as Secretary. Treasurer Patrick Frawley, assistant Treasurer Bernie Gavin, Field development officer Josie Gavin, Bord na n'Og delegate Fintan Meaney, Irish Officers Joe Hester and Garry Brennan, child protection officer Benny Duggan.. Also ratified on the night as senior manager was Michael Hehir. Meanwhile the clubs annual race night will take place at the Local Inn on Saturday 27th January, all support will be appreciated especially in the drive to raise money for the proposed new dressing rooms at the club. U16s began training during the weeks with other teams planning their restart in the near future. The club are putting team managements in place at present, any parents or players, current or past interested in being involved can contact any of the club officers, see Clondegad.com for contact info.
New Senior training Jerseys presented by Kepak
New Kepak sponsored training Jerseys Presented to Chairman Brian McNelis
New U14 Jerseys presented by Total Vision
Eoin Griffin (Total Vision) presents a new set of Jerseys to Fintan Meaney and the U14 Management. Also present and wearing the new Jerseys are Dean Brassil and Michael Meaney
Online payment system
A new online payment system was put in place by the finance committee to make it easier for all to pay/collect the membership fees, annual lotto payment and race night entry. Members are encouraged to use this system to simplify to annual task of fee collection.




Two in a row Feile B Winners 2015/16
The U14's had a 3 point win over Kilrush/Killimer in last Sunday evenings division 2 Feile county final. Playing against a strong breeze they trailed by 3 points at the break. However the tables turned in the second half and the clondegad men scored 1-3 with no reply to win the day. They will now represent Clare for a second successive year in this year's All Ireland Feile to be held in Kerry on the weekend of the 25 and 26th June. More information on the 2015 feile HERE and on the 2016 feile HERE
On the TV
TG4 Friday 5th Feb 9.30pm or sat. 12.25pm
Thar an Trasnán a TG4 program was filmed at Clondegad Gaa pitch on Saturday 30th Jan from 2pm…..
Thar an Trasnán is an exciting competition on Seó Spóirt for GAA clubs throughout Ireland. Each week the Seó Spóirt Team will visit a different GAA club to check out what skills they have on offer when it comes to Hurling or Football. A total of 7 players take part who will try to score as many points or goals, individually, in order to get on top of the leader board.
Pictures of the competition can be viewed HERE and on TG4's Seo Spoirt HERE
Christmas 2015 in Ballynacally
Gary Brennan,was invited by the Parents association to the fair green in Ballynacally on Sunday to switch on the christmas lights.

The lights were erected on behalf of the parents association by the clubs field manager Josie Gavin.

Pictures of the event can be seen on ballynacally.ie, click HERE
Lighting 2015
High level lighting has also been erected around the pitch to allow all age groups to train on the darker evenings. Existing light made this difficult and the addition of lighting to the side of the pitch and the training area should make traaining in the winter months more feasible. See some images of the lighting erected on the 8/9th September 2015 by clicking here
Extension Plans
The Club are currently in the process of carrying out an extensive program of works including pitch renevation and the addition of a training area, training lights and there are also plans for extension of the changing rooms. Click plan below. Following on from the detailed submission in which the club had applied for grant aid under the newly restored Sports Capital Programme, we are pleased to announce that the club has been successful in their application, this grant aid to be used for the training ground and lighting. However a further application will be made for the newly proposed buildings to secure funds and money will have to be raised and any ideas or donations will be gratefully received. please contact any club officer here if you can help
Family Fun Day 2015
The 2015 fun day which raised money for the field project was a great success, luckily the rain held off to allow the Brendan McMahon memorial cup to take place and children fron U13 down competed for the cup. Following this the over 35's match took place to the amusement of the large crowd. Gary held a skills competition before the most important and best fed guest of the afternoon made its appearance to use the loo, and the cow patch winner was decided after some delay. With a cake sale and other novelty events the day passed off well with thanks to the many people who helped out. Pictures taken by Eamon Murphy HERE
Training area 2015

Work is completed on the new training area at the entrance to clondegads pitch. Volunteers from the club Picked Stones recently in preparation for seeding. The club have also submitted a grant application for funding to improve and extend the changing rooms and include a meeting room. Lighting is now in place in the training area.

Click HERE to see calendar which outlines when training takes place in the field, any queries please contact the field manager Josie Gavin. Home Games take precedence over training where they occur
What is concussion? • Concussion is a traumatic brain injury. It is a complex process in which forces are transmitted to the brain and result in temporary impairment of brain function. • Concussion can have a significant impact on the short and long term health of player if not managed correctly
What are the visible clues of a suspected concussion? Lying motionless on ground • Slow to get up • Unsteady on feet • Balance problems or falling over • Grabbing/Clutching head. Players, coaches, healthcare professionals and referees should be familiar with the visible clues of a suspected concussion. If a player has ANY ONE of the visible clues they MUST be immediately removed from activity and MUST NOT return until they have been medically assessed.
For more detail please download the Irish Rugby unions guide here
or the Acquired brain injury guide here
Jackpot max is €12000.
The lotto is one of our main sources of revenue for the club. Tickets cost just €2 each or 3 tickets for €5
There is also an option to pay €120 per year which covers
a horse at our race night, club Membership for players and a weekly entry to the lotto and a draw for county board tickets, this option is great value and is well worth considering.
Results can be viewed in out twitter feed above, check twitter and local noticeboards to see what the current jackpot is
Clondegad Gaa have recently carried out an extensive program of works including pitch renevation and the addition of a training area, training lights re sanding, and the addition of a walking track. Thre are also plans for extension of the changing rooms. Click plan to VIEW.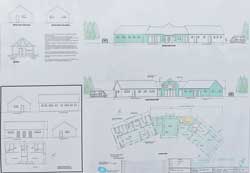 Following on from the detailed submission in which the club had applied for grant aid under the newly restored Sports Capital Programme, we are pleased to announce that the club has been successful in their application, this grant aid to be used for the training ground and lighting. However a further application was made in 2017 and €60K has been won which will be used to develop the much anticipated new dressing rooms. However more funding will be needed and this money will have to be raised through fundraising and any ideas or donations will be gratefully received. please contact any club officer here if you can help
Walking/Running track
With funding received from the Tidy Towns Committee, the GAA have now completed the walking track, more info here http://www.ballynacally.ie/Midnite_Mile.html
Lighting
High level lighting has also been erected around the pitch to allow all age groups to train on the darker evenings. Existing light made this difficult and the addition of lighting to the side of the pitch and the training area should make traaining in the winter months more feasible. See some images of the lighting erected on the 8/9th September 2015 by clicking here
Pitch drainage 2014
The diggers arrived at the pitch on the evening of Monday 1st of July. Rain followed and works did not begin properly until the following friday 5th with digging started at the rear left of the field (pics here). It is expected that although the works will only take approximately 3 weeks, the field sod will need until next spring to grow before training or any match play can re commence. Until then Both Ballyea and neighbourers Kildysart are being very sporting by sharing facilities with us, Lissycasey are also sharing their pitches for games where necessary. The main drainage works were completed and machinery removed by the begining of August. Local club members carried out some drainage works from the car park entrance to tie in with the new drainage works to prevent water flooding off the road into the car park and around into the field. Also work began on a new shed to the rear of the changing rooms, this work was carried out using local help.
See some image here
CLICK HERE to go to our registration page where you can download the form
This booklet was distributed to mark the opening of Clondegads pitch as Pairc Mhichil Ui Eithir. The booklet can be viewed as a series of slides by clicking here
A selection of photos provided by Seamus Reilly CLICK HERE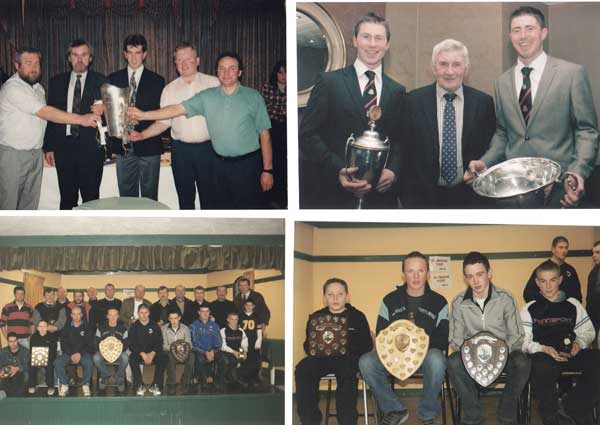 you tube videos, click the links below
Clondegads U15's team of 2015 competing in the West Clare tournament played Miltown at home and were unlucky to lose out after narrowly missing a late goal channce. The team formed the U16's ofn the 2016 season and progressed to the semifinal of the championship.

for some pictures of the game click above
Click above image for a better view

Clondegads u14 team won the Div 2 Feile Final when they beat Kilrush/Killimer on Wednesday 20th next in Coolmeen after defeating Doonbeg in the Semi final held in Clarecastle on Sat 16th April.
They qualified for the finals after coming through the group stages held in Cooraclare. Well done to the players who battled hard, many after a tough hurling match the evening before the games. MORE HERE on our Feile page*****
Details on the National feile competition on our Feile page HERE
CLICK HERE to download Registration form.......
Congratulations to Ballynacally's Clare Hester who played with Parish team "Fergus rovers" Ladies Gaelic and is a member of the Clare team who took part in the Intermediate all _Ireland final v Kildare in Croke Park on Sunday 25th September. Although the team did not win it was certainly a great achievement to play an all Ireland in Croke park.
Ballyea All-Ireland Club Hurling finalists 2017
Ballyea Signs decorate the road to town and around Ballyea, see Clare Champion signage video click here also see RTE 6pm news item here and to see some of the earlier signage click HERE



Ballyea Senior champions 2016
Ballyea won the Clare Senior Hurling Championship for the first time in their eighty two year history when they overcame the challenge of Clonlara on the second time of asking in the replayed final.


Páraic McMahon reports from Cusack Park
Ballyea 2-14
Clonlara 1-14 Venue: Cusack Park


October 30th 2016 is a day that will live on forevermore in the history of Ballyea hurling club, it is the day in which they played to their potential as a unit and finally got their hands on the Canon Hamilton. Their appetite was infectious and their display was one full of character and class, this was the hour that Ballyea came of age in front of an attendance of 5,058.


Seeing as it was Clonlara who forced the game to a replay, there was a view out there that Ballyea didn't take their chance. They seized the opportunity from the get-go, once the ball was thrown in they were chomping at the bit to get possession firstly and then to cause damage.

What is learned in between a drawn game and a replay is pivotal, Robbie Hogan and his management took the most from their clash two weeks ago and the decision to move Gary Brennan to full-forward had the desired impact.

Clonlara on the other hand tried their best to come with a different approach but by taking Cathal 'Tots' O'Connell out of their half-forward line they lost a spark. Tots was moved in alongside John Conlon in the inside line but neither received enough ball to have a proper effect.

Gary Brennan was first on the scoreboard, Gearoid O'Connell swept up a Clonlara puckout and launched the ball on top of the towering St Flannan's schoolteacher and he controlled the sliotar and slot between the posts. Patjoe Connolly doubled their lead less than a minute later while Nicky O'Connell opened Clonlara's account on the fifth minute from a free.


Gary Brennan flicks the sliotar to the back of the net. Pic: Martin Connolly



Ger O'Connell pulled off an excellent save to deny Brennan a certain goal as he deflected the shot over the crossbar on the sixth minute. County man Tony Kelly hit over a 65 after O'Connell was on hand this time to stop a Martin O'Leary attempt.

While he didn't execute his first goal chance, Gary Brennan tapped home his second effort, Martin O'Leary dispossessed Ger O'Connell and put Brennan straight through on goal and the Clare football captain duly flicked the ball to the back of the net.

This seemed to be the wake-up call for Clonlara as they cancelled out the goal with three points in succession via Tots O'Connell, John Conlon and Mícheál O'Loughlin. However all their work was diminished when Niall Deasy struck home Ballyea's second goal at the end of the first quarter to put his side six points clear. Patjoe Connolly offloaded to Deasy who was afforded too much space by his opposing defenders as they suddenly lost pace and he drove the sliotar past the helpless Ger O'Connell.


Niall Deasy strikes to the back of the net. Pic: Martin Connolly



Again Clonlara came back fighting with Tots O'Connell adding three converted frees on the bounce. Joe Neylon and Colm Galvin swapped scores before the half-time whistle which left three points between the teams.


On the resumption both sides added four scores each inside the opening ten minutes to keep with the tight nature of the three-week running drama. Clonlara found themselves back on level terms when captain John Conlon was the recipient of a Colm Galvin sideline cut and once he found his range there was to be no stopping the Clare senior.

Conlon appeared to have put his side in front but confusion between two of Damien Fox's umpires resulted in a wide ball. Niall Deasy ended a nine minute scoring drought when he pointed on the forty ninth minute but his effort was immediately cancelled out by a Tots O'Connell white flag.

Tony Kelly and Tots exchanged scores to leave the sides level with seven minutes of normal time remaining. Substitute David Egan had a glorious chance to collect Ballyea's third green flag only for an excellent block from Garrett Kennedy prevented any danger.


Pic: Martin Connolly



With the game in the melting pot the Bally boys found an extra gear and hit over the final three scores of the game with Niall Deasy, Damien Burke and Tony Kelly all on target as they marched on to secure their first ever senior championship.
When every member of a full-back line registers on the scoreboard the chances of success are very high, Brian Carrigg, Jack Browne and Joe Neylon all scored points for their beloved Ballyea which summarises the type of team performance given by the champions. Previously when their talisman Tony Kelly missed some frees they would falter, while he hit three wides from placed balls today the key difference was that his teammates stood up and were counted allowing Kelly to remain confident and chip in with vital scores.

From play they scored 2-12 in comparison to Clonlara's 1-06. They never panicked even when their opponents came back fighting they managed to hold tough. Their management deserve great credit for how much they took from the drawn encounter. Niall Deasy put his hand up for selection on the County senior panel with a fine display, Gearoid O'Connell and Gary Brennan were very impressive but Ballyea are now playing as a team with each player making their contribution and it is why they are now on the Clare SHC roll of honour.

After losing out at the semi-final stage in 2012, 2013 and 2014, Clonlara conquered their problem in getting past the last four as they made it to the decider last year only to lose out to Sixmilebridge. Now they have lost two county finals in a row they will be asking questions as to why they can't perform to their capability on county final day.

Over the course of this game it was admirable to see the South East Clare club bounce back every time they were knocked down. They responded immediately to the two goals but they struggled to get their own chances on goal while their inability to keep the sliotar in their hand was startling. Colm Galvin, Shane O'Brien, Tots O'Connell and John Conlon did best for the Clonlara man who failed to supply their Conlon with enough ball. Without doubt there is a title in this team but they need to get to the root of the problem as to why they're falling to hit their peak on the biggest day.

Ballyea: Kevin Sheehan; Brian Carrigg (0-01), Jack Browne (0-01), Joe Neylon (0-01); Paul Flanagan, Gearoid O'Connell, James Murphy; Tony Kelly (0-04 1'65), Stan Lineen; Niall Deasy (1-03 1f), Patjoe Connolly (0-01), Cathal Doohan; Martin O'Leary, Gary Brennan (1-02), Pearse Lillis. Subs: Damien Burke (0-01) for O'Leary (44), David Egan for Connolly (53).


Clonlara: Ger O'Connell; Cillian Fennessy, Domhnall O'Donovan, Garrett Kennedy; Cormac O'Donovan, Nicky O'Connell (0-01 f), Neil Ryan; Colm Galvin (0-02), Oisin O'Brien; Mícheál O'Loughlin (0-01), Darach Honan (0-01), James Hastings; Ger Powell, John Conlon (1-01), Cathal Tots O'Connell (0-08 7f). Subs: Shane O'Brien for Ryan (24), Pat O'Hare for C O'Donovan (38), Paraic O'Loughlin for O'Hare (58), David Fitzgerald for Galvin (60) (Inj).


Referee: Damien Fox (Clooney/Quin)

All photos by Martin Connolly



A Tribute to Eoghan
All year long Ballyea's motto has been 'you win or you learn', throughout 2016 they have taken lessons from every game resulting in them being crowned the ultimate winners and 2016 Clare SHC champions.
Robbie Hogan's name is destined for the history books having become the first man to manage Ballyea to glory at the biggest level in club hurling in Clare. Speaking in the moments after their historic win Hogan dedicated the victory to injured forward Eoghan Donnellan.
Donnellan sustained a back injury during training in the lead-up to the replay and was in hospital in Cork as his teammates dug deep to get their hands on the Canon Hamilton. "Eoghan is just a fantastic lad, we wouldn't be in any final but for Eoghan, we did it for him".
Eoghan Donnellan. Pic: Martin Connolly
Ballyea's character was to the fore as they edged out Clonlara by three points. When John Conlon goaled to level matters on the fortieth minute Hogan's men refused to panic and he's very proud of them for grinding out the win. "When we've gone down we've clawed it back, all year long we've been coming back and today wasn't any different, great character out of the lads and I'm thrilled for them".
While Stan Lineen may be the captain of the team there are leaders in every position according to Robbie. "There's leaders all over the field, the likes of Gary Brennan, Niall Deasy they've led and nothing seems to phase them. Two weeks ago we had one hand on the cup but today we've two hands on it and we're delighted".
Two weeks ago he repeated their motto and the significance it has, the moves made by Robbie and his management team of Fergal Hegarty, Raymond O'Connor, Alan Duggan and Diarmuid O'Sullivan for the replay show just why their philosophy has been so important for them.
"The motto we had after the Éire Óg game was you win or you learn and we didn't win the last day but we learned a bit, everyday is a school day, we could have been more ahead in the first half really but I'm just over the moon and delighted for the group of lads" the beaming Ballyea man said.
October 30, 2016
View all the signage on the road to town here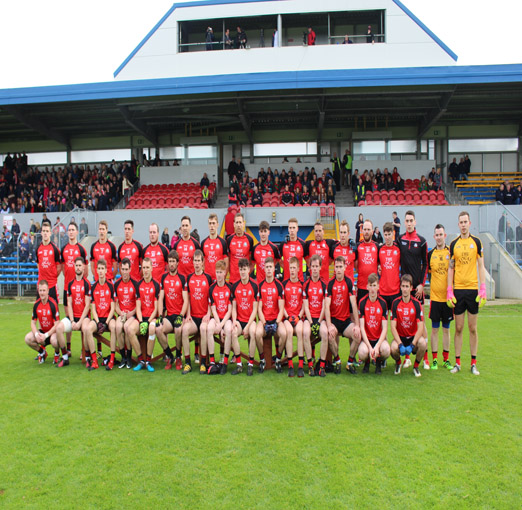 Clondegad Senior County Final 2017
Pre-Match report by John Harrington (Full Report here)
When Seamus O'Reilly answers the phone, he's dropping off his last batch of copies of the freesheet newspaper, the Clare County Express, to a shop in Miltown-Malbay.
Seamus is the one-man band behind the Express, and his deliveries on Thursday took a little longer than they usually would.
That's because he's PRO of the Clondegad GAA club who contest the Clare Football Final on Sunday against Kilmurry-Ibrickane, and at every stop he made a point of dispensing some free advice to the shop-owners he met.
"Put your money on Clondegad!"
They bookies don't agree with Seamus – they've made Clondegad 2-1 outsiders – which is probably because this is the first time Clondegad have ever even made it as far as a County Senior Football Final.
Intermediate County Champions in 2011, they still plied their trade in the back-waters of the Junior 'B' Championship as recently as 20 years ago.
"We won that Junior B County Championship (1997) after a replay against Miltown-Malbay, and of that team, Eoin Griffin is still playing," says O'Reilly.
"Michael Hehir who is the current team manager was a sub. Our two selectors also played on that team - Flan Enright, who still plays Junior, and Kieran Browne. So, four of that team are involved in Sunday's Final."
They've come a long way in 20 years, and they wouldn't have made it this far were it not for a mutually beneficial alliance with their sister-club, Ballyea, who are ten kilometres down the road.
Since the 1960s, the men of Clondegad who fancy a bit of hurling play it with Ballyea, and the men of Ballyea who fancy a bit of football play it with Clondegad.
A good chunk of the Ballyea team that won the Clare Senior Hurling Championship last year hailed from Clondegad, and on Sunday a good chunk of the Clondegad team will be Ballyea men.
"I think there are something like 16 or 17 of next Sunday's panel of 31 who were part of the panel that won the hurling club final last year," says O'Reilly. "There's a huge cross-over, we would be very dependent.
"One time Ballyea were dependent on Clondegad, but now at underage level Clondegad would definitely be more dependent on Ballyea. Without Ballyea we would probably struggle."
2013 Hurler and Young Hurler of the Year, Tony Kelly, was the star man for Ballyea last year as he powered them as far as an All-Ireland Club Hurling Final, and it turns out he's a pretty nifty footballer to.
"Tony Kelly played county minor football at the age of 17," says O'Reilly. "He didn't play the last year of minor football because he told them he couldn't give it the time.
"He's a top-class footballer. He plays wing-forward or corner-forward for us. He's a like greased lightning."
Kelly is an important cog, but the engine of this Clondegad team is Clare midfielder and Ireland International Rules Star, Gary Brennan.
Along with others like Podge McMahon, Pat Coffey, and Francie Neylon, he's part of a golden generation of footballers in the club who contested a Clare Feile Final and went on to eventually win a County U-21 B Championship and the 2011 Clare Intermediate Championship.
"Gary would have only been in the top three or four back then (in the Feile team). He wouldn't have been the best player at that stage," says O'Reilly.
"But Gary would be a lot like Jamesie O'Connor in so far as he's a very focused character with an 'I know what I want' sort of attitude.
"He's very modest, but very driven. He's the main man for us without a doubt, and we're very proud of the fact that he's once again been selected on the Ireland panel for this International Rules."
When O'Reilly compares Clondegad with Kilmurry-Ibrickane man for man, he's convinced they have the talent to beat them.
But he knows too that that the experience and big-match mentality of a Kilmurry-Ibrickane outfit that are reigning champions and have been the dominant force in Clare football for the past 15 years could be a big factor on the day too.
"It's like a fella throwing darts," says O'Reilly. "The professional knows how to throw the darts and the camera doesn't faze him.
"Gary Brennan and Tony Kelly have played in big matches, but this is still a new experience for a lot of our lads.
"I would hope that they wouldn't be over-awed on the day because Kilmurry-Ibrickane are such seasoned campaigners and have been there so often.
"They have replaced Doonbeg as the modern kings of football in Kerry. In the last 20 years they've been dominant in Clare and when they've gone beyond the county they've done us proud.
"They were in an All-Ireland Club Final and themselves and Doonbeg are the only two Clare clubs to have won a Munster Championship. They have a great tradition there.
"On the day, you'd wonder could some of our less experienced lads get spooked. Could the occasion get to them?
"I would hope it doesn't, but that would be my only fear. Because I honestly believe we'll have more in the legs than they will." 
Clondegad GAA football team gallery
Clondegad gaa football team thank you for visiting our site