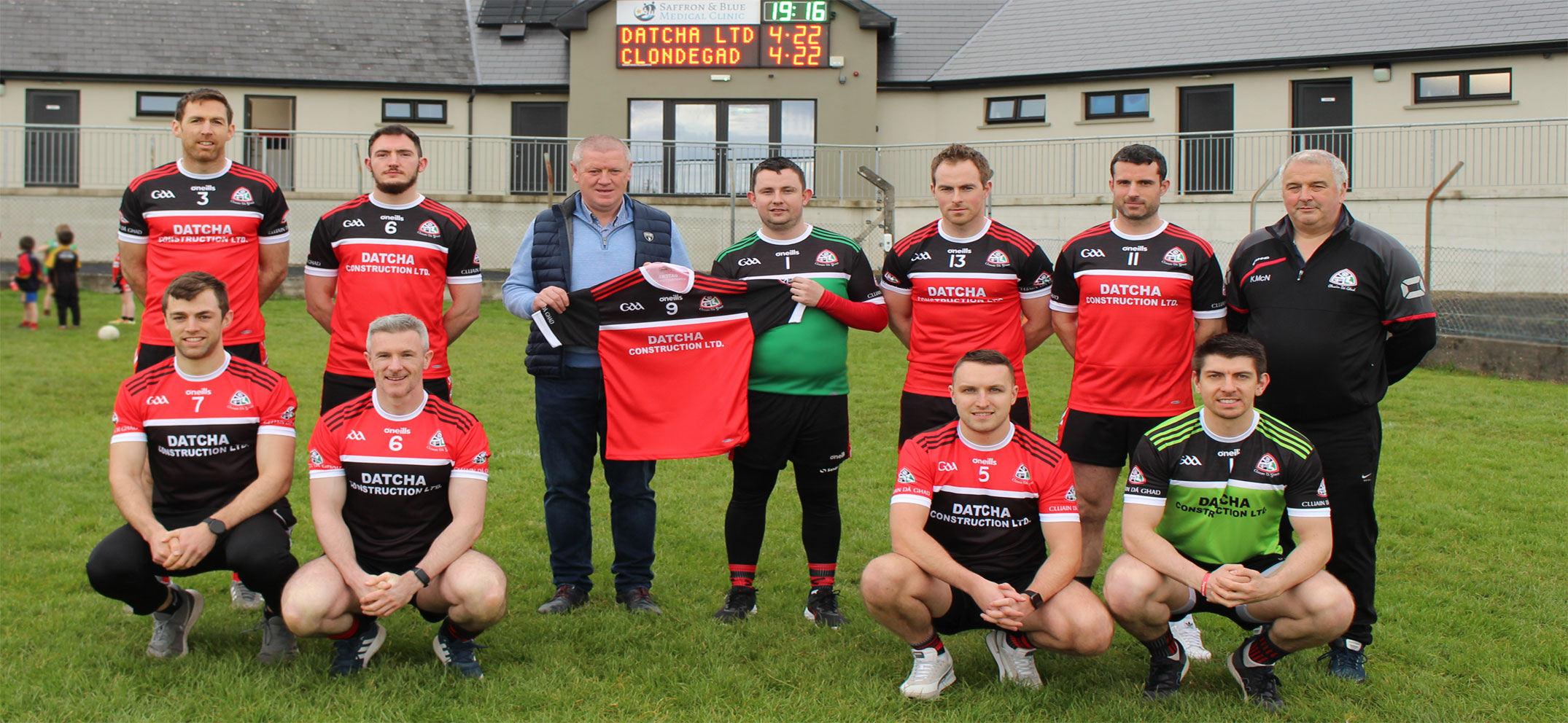 Clondegad thank Datcha Construction & the Kelly family for thier support to the club. We are dedicated to enriching the lives of our members by promoting individual development through sport while creating lasting friendships.
Club sponsor
Clondegad are delighted to announce they have secured a new sponsor. Datcha construction Ltd have committed to a three year deal worth 30'000 which will have enormous benefits for the club allowing us to improve on our strength and conditioning and coaching regime's for all our players in all age groups. More importantly it allows us to plan ahead with improving the infrastructure of the club knowing that our teams are well looked after. Our new club jerseys are being made presently and will be available to purchase on our clubzap page and through the O Neill's website in the coming weeks, we will let you know when they are available. The Club would sincerely like to thank the John, Ann & family for supporting their local club.
St. Stephens day Community Concert
Clondegad GAA has organised a virtual concert of local musicians broadcast on the Ballynacally Church Radio from 4pm on St Stephen's Day.
The event was organised by the Clondegad GAA Community Group to showcase local talent and bring some festive cheer after a challenging year. Listen to part 1 HERE and part 2 HERE
***Guidelines for a Return to Training***



Cahercalla Fundraiser
Ballyea and Clondegad GAA combined together to run a 48 hour exercise relay last weekend entitled "Lets Get moving for Cahercalla". Members were asked to run/walk/cycle/dance/puck a sliotar or kick a ball in a relay for 30 minute consecutive slots over the 48 hour period. Their appeal was extended to all who have relocated to other parts of the world to take part and indeed many booked their 30 minute slot through the hospital. The fundraiser coincided with Cahercalla's annual Sunflower day which could not take place this year due to covid restrictions. The Go-Fund me page set up saw 258 people donate over €10'060 making the event a huge success surpassing the goal of €4000. Pictures of many of those who took part were posted on both clubs social media accounts. Thanks to each and everyone of you for taking part and donating. It was great to see so many members both young and old taking part from every corner of the world. During such strange times it was great to see both communities come together and donate to such a worthy cause.
Micheál O hEithir remembered
June 2nd 2020 marked the 100 year anniversary of the birth of Micheál O hEithir. The grand opening of Clondegad Gaa grounds took place on July 25th 1993 and the pitch was officially called Páirc Mhicheál O hEithir in honor of the renowned sports commentator, who was son of Jim Hehir, trainer of the 1914 All Ireland winning Clare hurling team, who was born in Paradise, Ballynacally. No ceremony was held due to the covid 19 restrictions however the Club flag flew proudly on the day to mark the occassion. Pics below taken from the Field opening day booklet produced for the day, CLICK HERE to view it. RTE news commentary on Centenary can be seen by clicking HERE
Club Membership & GDPR forms. Open by clicking on the icons below, then right click on document to print

All types of Membership application
Adult Membership application & GDPR form
Underage Membership application & GDPR form

Please all fill in Membership form 1 above AND form 2 for adult membership or form 3 for underage membership